Immanuel's youth ministry exists to REACH all youth, to CONNECT them with other Christians, to help them GROW in their faith, and to CHALLENGE them to discover their ministry and HONOR God with their life.
For more information and upcoming events, contact Jolene Siebarth, DCE - Director of Youth Ministry at 
Sign up for "The Week" during VBS!
The Week is open to all youth currently in grades 6-12 and It is the same week as VBS (VBS is in the morning, the WEEK is in the afternoon). All students can sign up to serve at VBS (but are not required to be a part of VBS to participate in The Week), and then have some fun themselves in the afternoon with some amped up activities offered at the WEEK!
When: June 6-9, 2022 (during VBS week)
Time: Noon - 3:30 p.m. (end time may vary slightly by activity)
What: Each day, we will venture to an activity. This may include hanging out at the Harmony House for gaga ball, 9 square and water balloons; cosmic bowling; pool day; movies and games and more!
Cost: (included in the cost: lunch each day, transportation and cost of activities at the event)
- $65 if helping with VBS each day (registration must be turned in by May 25)
- $75 for the WEEK only (registration turned in by May 25)
Rummage Sale Volunteers
The high school Youth Ministry is having a rummage sale! The proceeds from this sale will benefit the 2022 LCMS Youth Gathering in Houston.   Items can be dropped off at the Fellowship Hall beginning at noon on Sunday, MAY 29.  Please do not drop off items earlier.  Work shifts will be available May 29- June 4.  The shifts will include set up, sorting, pricing, sale days, resetting and also clean up.
There are a variety of shifts available. Parents are asked to volunteer time along with their teen.  Teen involvement is needed! (Please attempt to sign up for 3 spots per  participant.)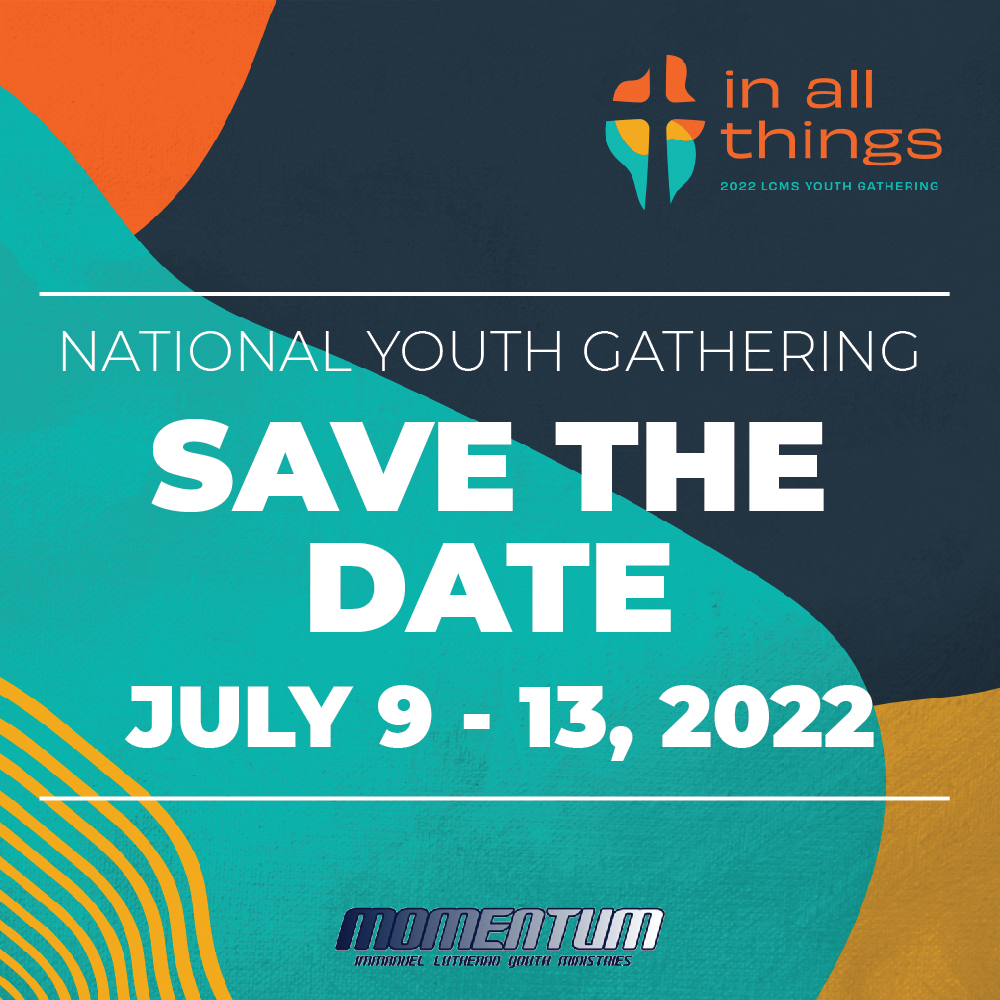 2022 NATIONAL YOUTH GATHERING
Save the date of July 9-13, 2022 for the Youth Gathering in Houston, Texas! Any teen currently heading into 8-12th grade can register to go to the Gathering.
Contact Jolene to learn more about what the Gathering is all about and how to get signed up. This is an experience you won't want to miss!
College students!
We would love to stay in touch with you while you are away at school! If you have entered the job force or the military, we would love to know that as well. Please take a few moments and fill out this brief survey on where you are and what you are up to. Know your Immanuel family is praying for you!