Immanuel's youth ministry exists to REACH all youth, to CONNECT them with other Christians, to help them GROW in their faith, and to CHALLENGE them to discover their ministry and HONOR God with their life.
For more information and upcoming events, contact Jolene Siebarth, DCE - Director of Youth Ministry at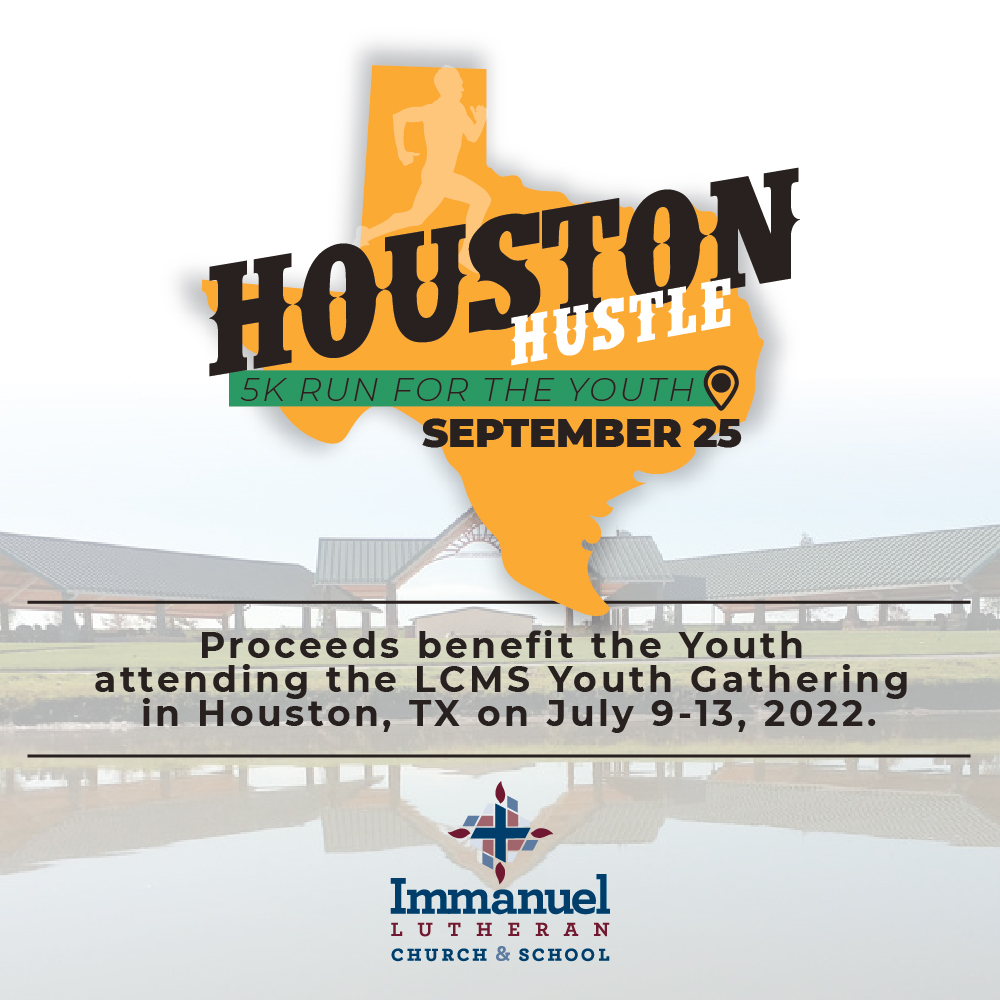 HOUSTON HUSTLE 5K RUN FOR THE YOUTH
REGISTRATION DEADLINE: FRIDAY, SEPTEMBER 10
Proceeds from the 5K benefit the Youth going to the LCMS Youth Gathering that will be in Houston, TX on July 9-13, 2022.
Our 5K race (run or walk) includes a race bib, t-shirt, Gatorade water bottle and medal. 1 Mile Fun Run includes a t-shirt. Refreshments will be served at the end of the course.
Awards will be given to top 2 male overall and top 2 female overall, top male and top female in the 10-13 age group, top male and top female in the 11-14 age group and top male and top female in the 15-18 age group.
Registration opens at 7:30 a.m. Run begins at 8:30 a.m.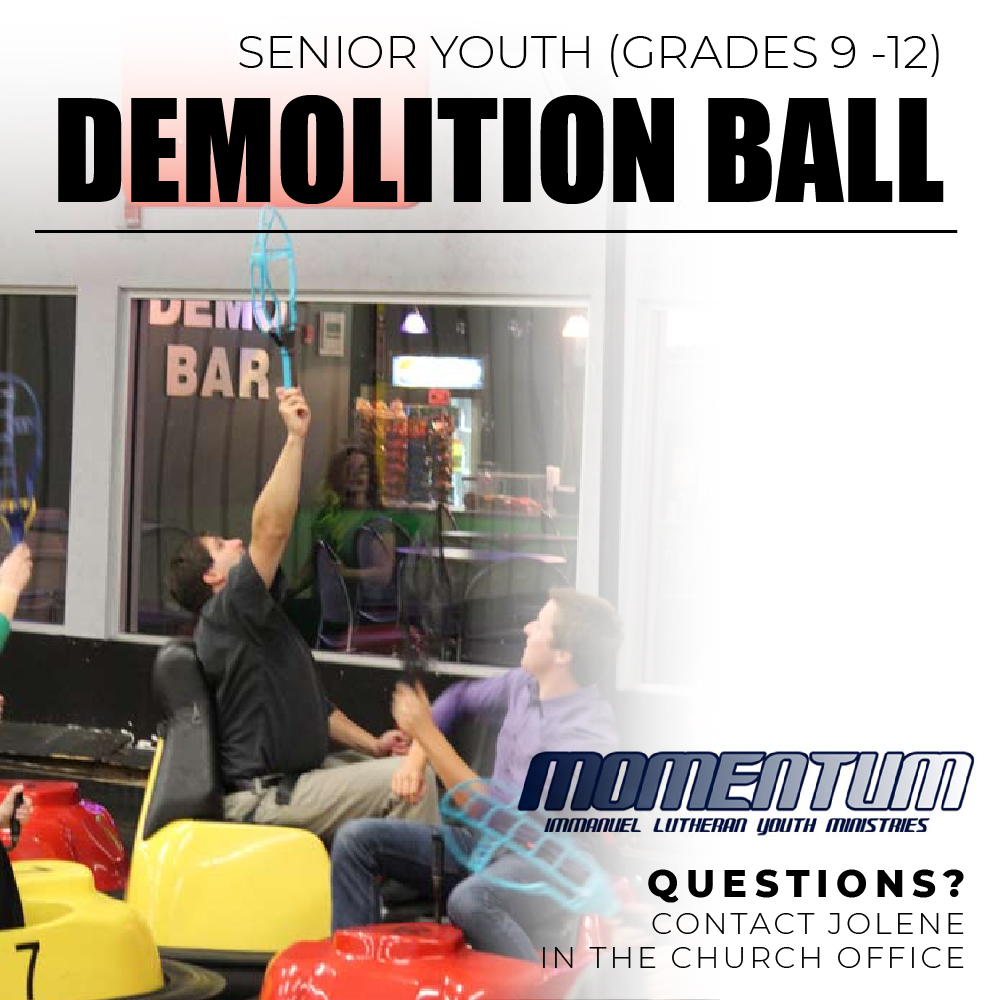 Senior Youth Demolition Ball and Laser Tag
What: 1 hour of Demolition Ball (think bumper cars, basketball and lacrosse)
and 2 games of laser tag
When: Sunday, September 19
Time: 4-6p.m.
Where: Adrenaline Zone, St Charles
Who: High school youth and friends!
RSVP by September 15 by signing up below. The cost is $20 for demolition ball and laser tag.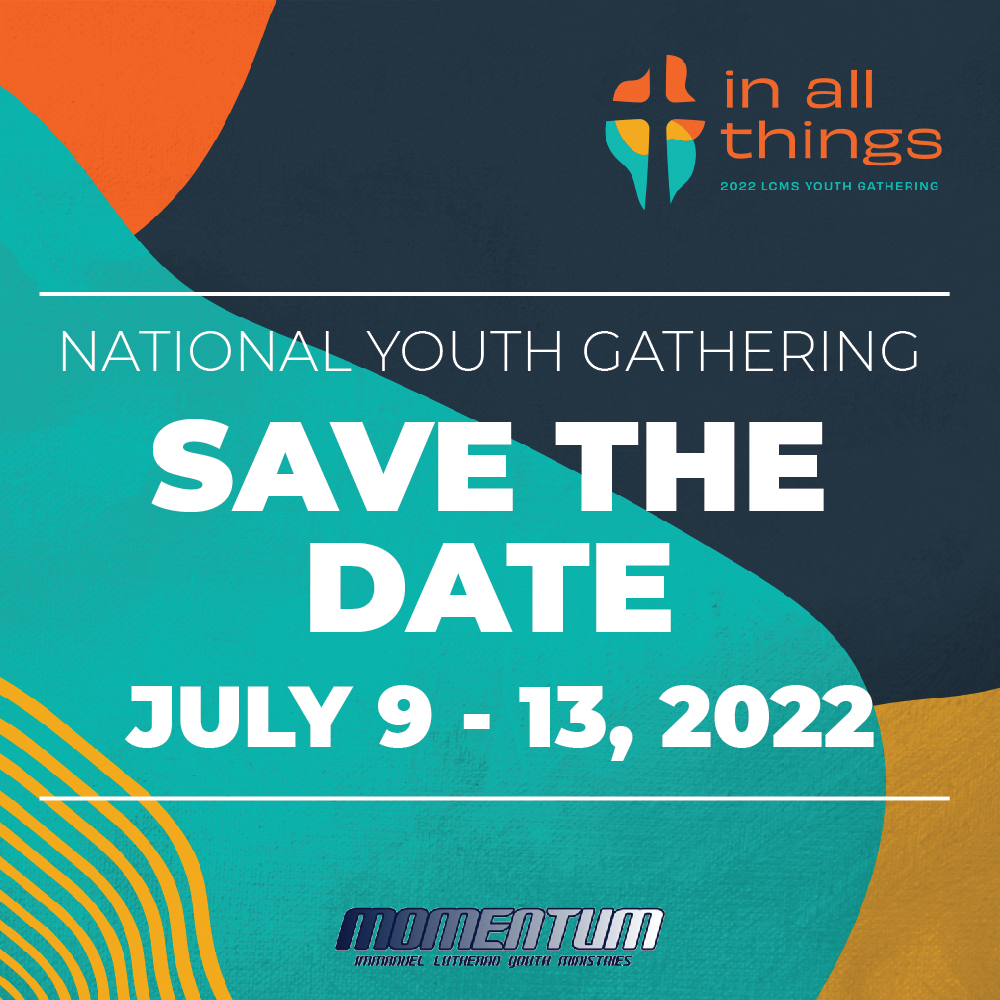 2022 NATIONAL YOUTH GATHERING
Save the date of July 9-13, 2022 for the Youth Gathering in Houston, Texas! Any teen currently heading into 8-12th grade can register to go to the Gathering.
Contact Jolene to learn more about what the Gathering is all about and how to get signed up. This is an experience you won't want to miss!
College students!
We would love to stay in touch with you while you are away at school! If you have entered the job force or the military, we would love to know that as well. Please take a few moments and fill out this brief survey on where you are and what you are up to. Know your Immanuel family is praying for you!