MOMENTUM YOUTH MINISTRIES
JUNIOR YOUTH (6th-8th GRADE)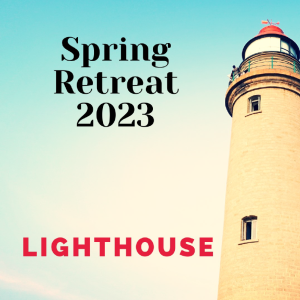 Spring Retreat - April 21 - 23
Registration is NOW OPEN to all 6-8th grade youth and friends for the April 21-23 Spring retreat at Lake Williamson! Registration can be done online or you may pick up a registration packet in the church office. To register online, please contact Jolene at jsiebarth@immanuelstcharles.org.
The theme for the 2023 Spring Retreat is "LIGHTHOUSE". What do you know about the purpose of a lighthouse? Why is it there? What is it for?
This year, we will be digging into what God is speaking to us about Lighthouses. We will take a look at Deuteronomy 7:9—"Know therefore that the Lord your God is God, the faithful God who keeps covenant and steadfast love with those who love Him and keep His commandments, to a thousand generations."
The retreat will include great food, campfire, hayride, games, music by our praise band, competition, prizes, Bible study and more... all culminating with family worship on Sunday with parents and siblings. This is a weekend that your teen will not want to miss.
The Distance
The DISTANCE returns on Wednesday, April 5 from 3:30-5:00 p.m. for all youth in grades 6-8. We will begin in the GYM with games, snacks and devotions!
SENIOR YOUTH (9th - 12th GRADE)
High School Cornhole Tournament
Join the fun at the YOUTH CORNHOLE TOURNAMENT on Sunday, April 30 from 2:00 - 400 p.m. at Immanuel!  The cost is $20 for a team of two and includes cornhole games, food (hot dogs, brats, chips), prizes and fun! Sign up by April 26. Cost is $10, register online below!
Junior Youth Bible Study
Sundays at 9:30 - 10:30 a.m.
Join with Mr McSwain and friends in the Resource Room in the school building (lower level, down the hall from the library).
High School Bible Study
Sundays at 9:30 - 10:30 a.m.
Grades 9-12: Join us on Sunday mornings in the Youth Room for great discussions as we walk through "The Chosen: Season 2". Each week includes watching part of an episode and discussion. Join us for a great time digging into God's Word as we look at the life of Jesus (and donuts!).