In the nativity scene we see many familiar characters. The wisemen, the sh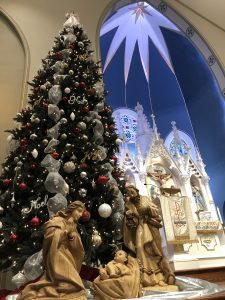 epherds, and of course Jesus. Each character has a different story. The shepherds came in from the fields to see Jesus because of the announcement of the angels. They were likely Jews who at least knew about the God who spoke to their people long ago. Those three kings of orient are traveling because of the star. They were of a different religion and race. Foreigners in the backwater of Bethlehem. The sheep and camels are their herded in by their respective masters. Which character do you identify with? As you look at a nativity scene, each little figurine on the hearth invites you to imagine that you were there. There when God as man was born. Are you an outsider seeking Jesus? Are you a lost sheep stumbling upon the Messiah? You wonder who you are in this familiar story from an unfamiliar time. Then your eyes move towards Jesus and the young woman beside him. Although Mary is often portrayed as reverently praying to her baby boy that night with marveling eyes, she was more likely flat on her back recovering from just having given birth. Mary the mother of God. Mary the girl from Nazareth. Mary who was likely just fourteen, fifteen, sixteen years old. 
Luke doesn't tell us where Mary was or what she was doing when Gabriel appeared. It is hard to imagine her doing anything but chores for her parents. She was still living at home. What Luke does record though is a miracle as stunning as any in that Christmas story. The miracle being Mary's final response to God's plan for her life. Mary says, "I am the Lord's servant of the Lord; let it be to me according to your word." You see it was nothing for the creator of the universe to be born of a virgin. Although it is surprising that God would become human, this is not difficult for him either. God is God, nothing for God is difficult. What is difficult is for us humans is to do something. It difficult for us to put ourselves in harm's way. But, this is exactly what Mary does. Mary stood to lose everything in this situation. Her betrothal to Joseph, her status in the village, her livelihood, maybe even her parents.  Yet, she consents to God's plan. She has faith in God's message to her. Mary's faith is ultimately the work of that same Holy Spirit who would conceive Jesus. Yet, Mary allowed that faith to take her into a situation we cannot imagine. A situation we would certainly not seek out. We usually avoid risk. We question God when he calls us, the faithful, to live by faith. Mary's faith is a miracle, a gift from God. Her faithfulness to that God is inspiring.
We as Lutherans do not give Mary enough credit. It can be easy to ignore Mary, or to get up in refuting Roman Catholic teachings about her. Our silence or our obscure conversations miss this fact: Mary is a great example of faith. Mary was not sinless. She is not our redeemer. We don't pray to her. But we should think about her. We should imitate her. I hope my children one day have faith as strong as young Mary's. Although being the mother of God may seem like anything but ordinary. We can assume that for much of her life Mary did live an ordinary life. It seems she and Joseph had other children, and they were all a bit surprised when Jesus' public ministry began. Mark 3:21 records that when some in Jesus' family heard about his ministry, they assumed he was out of his mind. Nevertheless, Mary's faith continued.
As your eyes return to the statue of Mary by the cradle of Jesus notice the distance. Mary is right there besides Jesus at Christmas. Mary was right there besides Jesus even in his most difficult hour. When Jesus was crucified, when Jesus died, Mary was there looking on. How difficult that must have been for his mother! The now much older Mary saw what evil had come to. All of our grinchy acts. But, she also saw the end of evil there on that terrible day.  There Jesus became not just her Son but her Savior. And your Savior too. The Savior who wants to be close to you. The Savior who came on Christmas for you. We might in contemplation glance on that nativity scene several times a Christmas. But, how much more often does he look upon you with care? Answer, all the time. With this mind, let us pray that our faith may be as mature as young Mary's faith was when Gabriel spoke to her. Let us pray that we would stay close to this baby born at Christmas even when we must walk by faith. So, whether you identify with the shepherds or the kings, I hope you see the virtue in being like Mary. 
Vicar Kurt Hellwig