Hello, my name is Beth Keiser and I am the Administrative Assistant for the Church office. My favorite responsibility is Membership Coordination. I have the special opportunity to speak with new members who are looking for a church, transferring, reaffirmation or beginning our Adult Education Class, Starting Point.
What would Jesus do? Speak with kindness, be inviting and connect our new members with ministries to help them make new Christian friendships. Jesus is at the very heart of what we do. Immanuel's congregational members and school reach out to visitors and school families, inviting them to worship and school-related activities and events. It is a wonderful to be able to bring the Joy of Jesus to individuals and families looking to connect with Immanuel Lutheran Church. We have so many blessings and ministries to share.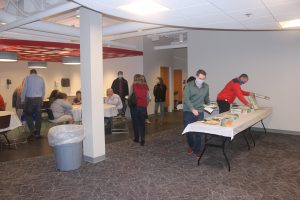 Just this past weekend, new members were invited to the Rite of Welcome during the worship service and a small dinner after the service. As German Lutherans, we feed people, always! Our new member pizza dinner after the Rite of Welcome was great. This is where I can connect faces to names, connect families to ministries, and new families are able to meet each other.  

Zillah, our Comfort Dog, often joins us. What a message of love and comfort she delivers with her team!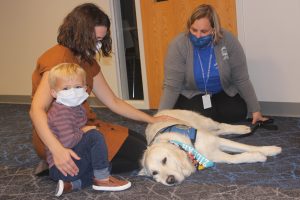 Below is a devotional I found on the internet (written by Tom Groelsema), it sums up how and why we invite and share what God have given us. 
Sharing the Good Things of God
 "If you come with us, we will share with you whatever good things the Lord gives us." — Numbers 10:32 
Sometimes we resist sharing our faith because we feel like we're pushing something on someone else. But when we share the good news of Jesus Christ, we are calling others to come along and experience God's grace and love. God calls us to keep sharing his good news and love with others always. Moses promised Hobab, "We will share with you whatever good things the Lord gives us." Sharing the good things of God is always a part of our living with God. 
Whom could you invite to come along on the journey of grace and faith? A friend or relative? God's grace is too good to keep to ourselves. Let's share it.
Prayer
Lord God, may we be faithful to share your good gifts—your love, peace, forgiveness, and joy. Give us courage to invite others into life with you. Amen.
In His Service, where we live to worship our LORD, connect people with Jesus, grow in relationship with Christ, and serve one another in love. 
Beth Keiser