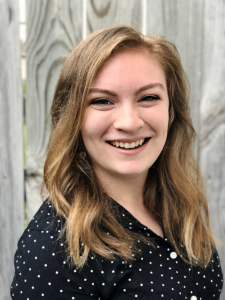 Hi Immanuel! DCE Intern Maggie here, and this week I'd like to take some time to share a few things about me!
I hail from Davenport, Iowa, where my family has lived for the past twenty years. My mother is a Director of Ministry Support at Trinity Lutheran Church in Davenport, and my father has been working for John Deere for as long as we've lived in Iowa. My older brother and sister-in-law are both civil engineers working down in Florida. We're a small but tight-knit family, and we spent a lot of time together in my younger years. Having only one sibling gave me an automatic friend through my life. I look up to my brother a lot, and it was because of him that I started playing the piano at the ripe age of four and the violin two years later. 
I grew up in the Lutheran faith, belonging to Risen Christ Lutheran Church on the Northwest side of Davenport. Although we received a public education from kindergarten onwards, my parents made sure that we took the time to talk about what it meant to be a Christian in our fallen world. Even when our schedule kept piling up, we always made sure that church was at the top of the priority list. 
I first heard God's call to pursue DCE ministry in high school. Through the strong relationships I created with the pastoral staff and youth group at my church, DCE ministry seemed like a perfect fit for me to use my gifts and further His kingdom. I chose to attend Concordia University Chicago because of the well-regarded DCE Program, the robust music offerings that it provided, as well as an active campus life. I couldn't do one without the other, and that's why I fell in love with CUC: there's something for everyone!
When I wasn't spending time investing in the DCE Program, I basically lived in the music building. I was a part of about every ensemble I could be. This included the Kapelle (CUC's top touring choir), Chamber Orchestra, handbells, and being a frequent chapel musician. Being a part of the Kapelle gave me the unique opportunity to spread the Gospel to churches all over the country. It was a humbling experience to meet and spend time with many members of God's children through song.
In my free time, you can find me catching up on my bullet journal at the library or a coffee shop, sewing or doing some sort of needle art, or exploring some of the great sites that the St. Louis area has to offer. Living in St. Charles has been great so far, but I'm in need of some more recommendations for parks, coffee shops and restaurants! 
Thank you all for your kind words of welcome and support. I am so excited to be a part of Immanuel's vibrant church community! I look forward to spending this next year in a place that is filled with Christ's love.