October is a special month for numerous reasons and you might have some fun making a list for your family: leaves, orchards, pumpkins, football, and the list gets larger and larger.  I'll add one that may not have made your list: the celebration of Church.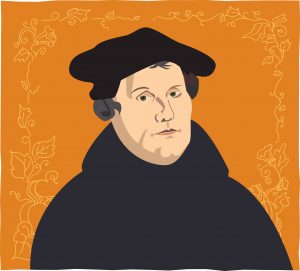 We celebrate Pentecost as the birthday of the church, but October gets on the list because of Reformation (Luther picked All Hallow's Eve to put discussion points on the door of the village church because he knew almost everyone would be at church for All Saints Day). Reformation celebrates the great truths of Grace Alone, Faith Alone and Scripture Alone, all of which are so critical to God's people, the church.
Although COVID has isolated and separated many of us, October reminds us to celebrate our unity and connections. God's Word proclaims going to heaven by grace through faith in Jesus alone. All who believe that wonderful truth are now one (united) in Christ. Scripture has lots of images (one family, one vine, one body), and whichever you like the best, all help us rejoice that we are joined by faith into a unity with people from all nations, all backgrounds, all ages, every century going all the way back to Adam, Abraham, Peter and Paul.
When so many of our connections to people have been strained or nearly broken, Jesus reminds us that not only do we have His comforting presence, we have the gifts and abilities of many others who share our faith.  We are on in Christ, empowered by God's Spirit and guided by His Word. I draw strength and encouragement from your faith, your gifts, your sacrifices, your joy. We are lifted up by one another.
Those connections are worth celebrating. How do you celebrate? Have you mentioned what a blessing your Bible study partners are (even when you only see them online!). Have you said "thank you" to that spouse or child or grandparents who models that exuberant faith just about every day? We staff members deeply appreciate your encouragement, but don't forget to share that with your fellow ushers, choir members, worshipers, and family.
Being part of the Body of Christ, worth celebrating every day!  Praise the God who blesses us with brothers and sisters in Christ!
Pastor Al Schade