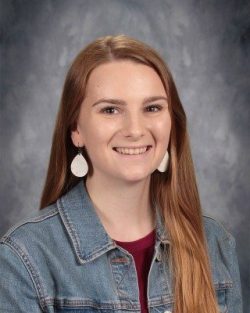 6th Grade Homeroom
636-946-0051 ext. 314
Experience: Student Teaching Internship at Concordia Preparatory School, Towson, Maryland
100+ Field Experience hours at various public and Lutheran schools, including Immanuel Lutheran School, Elmhurst, IL
Degrees: Concordia University Chicago – BS in Middle Grades Education with certifications in Literacy, Science, and Lutheran Teaching (Theology).
Interests: Reading, theater, music, plants, exploring the great outdoors.
Philosophy of Teaching: In my vocation as a Lutheran teacher, I believe that I am called to serve my students by equipping them with the skills necessary to succeed in and out of class. I want to nurture my students' curiosity while focusing on content through a combination of direct instruction, independent investigation, and collaboration with classmates. Every student has different needs in the classroom, and I am prepared to adapt my teaching in order to better serve my students. In all things, I enjoy teaching students about God's love and celebrating their unique gifts and talents.
Classroom Goals: In ELA, everyone is a reader, a writer, and a thinker, and we will learn skills and strategies to nurture growth in each of these aspects. Learning is facilitated through a variety of approaches, including mini-lessons, independent reading, journalling, collaboration, and student-led inquiry. I aim to build a classroom environment where students are challenged appropriately, encouraged to ask questions, and relate learning to the world in which we live. Each student is a dearly loved child of God, and as such, we are to respect and encourage one another as the body of Christ.