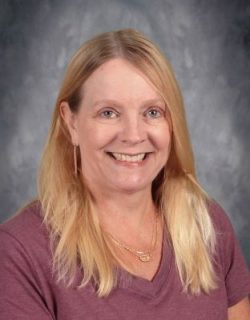 Current Position:
Teacher, Grade 8 Homeroom, Communication Arts (English, literature, writing, spelling), and French
Experience:
2013-present Classroom Teacher, Communication Arts and French, Immanuel Lutheran, St. Charles, MO
2010-2013 French, Lutheran High School North, St. Louis, MO
1997-2010 Grade 6 and French, Baton Rouge Lutheran School, Baton Rouge, LA
1993-1995 English and French, Parkview Baptist School, Baton Rouge, LA
1988-1990 English and French, Lutheran High School North, Mt. Clemons, MI
Degree(s):
BA English and French, Valparaiso University, Valparaiso, IN
MLA Master of Liberal Arts, Washington University, St. Louis, MO
Interests:
I enjoy reading, scrapbooking, coaching (volleyball and track), attending my children's (and my students) sporting events, and cheering for the LSU Tigers.
Philosophy of Teaching:
My philosophy of teaching is to provide a strong, quality academic education for my students that is anchored in Christ's love and forgiveness. I value each student as a child of God.
Classroom Goals:
I want to prepare my students to be successful readers, writers and critical thinkers.