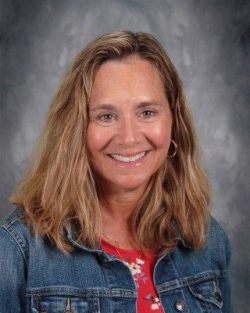 7th Grade Teacher, Mathematics
Experience:
17 years experience teaching middle school mathematics
2013 – present: Classroom Teacher, Immanuel Lutheran, St. Charles, MO
2004 – 2013: Parent Educator, PAT, St. Charles City School District, St. Charles, MO
1994 – 1998: Grade 8, Pre-Algebra and Algebra, Ladue School District, St. Louis, MO
1989 – 1994: Grade 8, Pre-Algebra and Algebra, Wentzville School District, Wentzville, MO
Degree(s):
BS Secondary Education, Mathematics, University of Missouri, Columbia, MO
MA School Counseling, University of Missouri, St. Louis, MO
Interests:
I enjoy spending time with family and friends and exercising, reading, and watching movies.
Philosophy of Teaching:
I believe every child is a gift from God. With His help, I hope to encourage the children in my care to excel in all areas: spiritually, academically, and emotionally. Forming relationships with my students is imperative to this goal.
Classroom Goals:
I hope to give my students the foundation in mathematics needed to be successful in future math classes and their everyday lives. I plan to carry out this goal through various teaching strategies, the use of technology, and creating an atmosphere that is non-threatening and welcomes student questions.