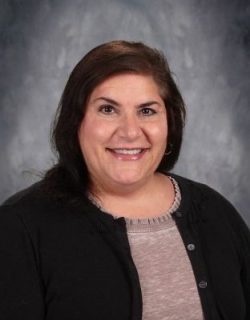 3rd - 6th Grade INSPIRE Teacher
Experience:
2008-present: Classroom Teacher, Immanuel Lutheran, St. Charles, MO
1999-2008: Seventh Grade Religion & K-8 Art Teacher, Christ Lutheran, Little Rock, AR
1995-1999: Fifth Grade Teacher, 5th-8th Grade Art, East Bethlehem Lutheran, Detroit, MI
1994-1995: Kindergarten Teacher, First Lutheran School, Los Angeles, CA
Degree(s):
BS Elementary Education Concordia University Seward, NE
MA Art University of Arkansas Little Rock, AR
Interests:
I enjoy spending quality time with friends and family. I have a wonderful husband, Jeff, and two children Eliana and Ian. We love to go for walks, play games, travel (especially to Lake Michigan!), and watch sports together. Go Cardinals! I love to paint using mixed media, work with clay, shop, visit museums, and read.
Philosophy of Teaching:
Share the love of Christ and "make disciples." I pray the Lord gives me daily wisdom, patience and encouragement to share His perfect love to my students and families, so they can do the same.
Classroom Goals:
It is a wonderful opportunity to encourage students to use the gifts God has given them. I love to see each child grow and discover more about themselves during the school year. I hope to create an environment where they feel comfortable reaching for goals we set together, and when they are achieved, create new ones. We also spend time learning about student responsibility, critical thinking, problem-solving strategies, and greater independence. Most importantly, I hope to guide students in developing a closer relationship with Jesus.