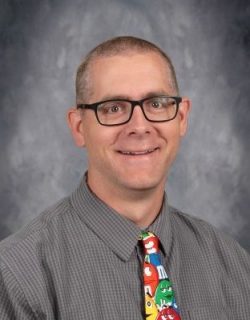 Experience:
2016-Present: Teacher, Immanuel Lutheran School, St. Charles, MO
2013-2016: Principal, Our Redeemer, Overland, MO
2005-2016: Teacher, Our Redeemer, Overland, MO
2002-2005: Teacher, St. Mark, Flint, MI
Degree(s):
MA Education – Lindenwood University, St. Charles, MO
BA Education – Concordia University, Ann Arbor, MI
Interests:
Family, watching movies, listening to good music, volleyball, making breakfast and Monopoly.
Philosophy of Teaching:
There is more than one way to solve a problem.  Likewise, there is more than one way to teach a topic.  One strategy does not always reach an entire class.  I try to reach a variety of learners using a variety of strategies.
Classroom Goals:
I want my students:
– to know they are forgiven and loved by their Lord, Jesus Christ.
– to be prepared for middle school.
– to strengthen their relationships with each other.
– to be responsible stewards.
– to be compassionate toward one another.