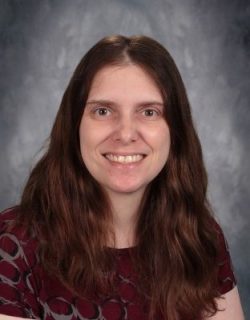 Experience:
I have worked in the Social Services and Counseling fields since 2002.
Degree(s):
BA Literature Webster University Webster Groves, MO
BA Psychology Webster University Webster Groves, MO
MA Counseling Webster University Webster Groves, MO
Interests:
I enjoy spending time with my family and friends. I also like to attend plays, listen to music, and read different types of literature.
Philosophy of Counseling:
My philosophy of counseling revolves around the belief that every individual created is by God, has unique needs and develops at his/her own pace. My role as a school counselor is to help facilitate growth and provide support.
Guidance Lessons Goals:
Every class at Immanuel Lutheran School receives either one or two guidance lessons each month. The guidance lessons focus on building social skills, living a healthy lifestyle, increasing self-awareness, and developing a career path. My three goals for every guidance lesson are to help students grow in their faith, build character, and become critical thinkers.