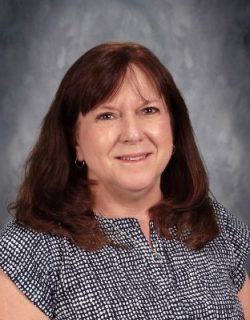 Experience:
1983 – 1986, 1993 – present Grade 1, Immanuel Lutheran School, Saint Charles, MO
1980 – 1983 Grade 2, Grace Chapel Lutheran School, Bellefontaine Neighbors, MO
Degree(s):
BA Elementary Education with a concentration in early childhood and P.E., Concordia College River Forest, IL
MA Education Lindenwood University Saint Charles, MO
Interests:
I enjoy reading, sewing, crafts, spending time with my family, traveling, beachside vacations, watching and participating in sports, and learning about history and enjoying the arts. In the school setting I've enjoyed coaching cheerleading, volleyball and softball in the past and hope to again.
Philosophy of Teaching:
I want each child to know they are loved by God and to enjoy learning so they will become lifelong learners. I feel blessed to be able to incorporate into all of my teaching and interactions with students God's love for them as well as my interest in them. I am a cheerleader for all the children I come into contact with, helping them to grow in their love for the Lord and to grow in their abilities and gifts given to them as a child of God, feeling valued by Him as well as by others.
Classroom Goals:
I want each child to feel comfortable in my classroom, safe to share, learn, and grow as a loved child of God and a valued member of our class. I challenge myself to make learning interactive, hands-on, and fun for the children as we learn the curriculum goals for first grade. I do my best to relate what we are learning to real life, to show the children why we are learning what we are learning. I also want each child to love to read, so we read many different genres of literature and I have many books available in the classroom for the children to have in their hands. Writing is another important skill I work to develop and the children do many different types of writing, such as poetry, stories, and journal writing. I want the children to know I care about them personally and want them to succeed, that I am there to help them to become the best student and person they can be.