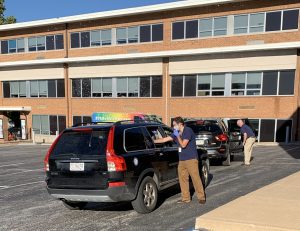 I am Scott Huster and I am the Assistant Principal at Immanuel. I am so grateful to God for granting me the opportunity to be part of this wonderful ministry team at the church and school. It is truly amazing to see what God is doing at Immanuel on a daily basis.
The 2020/2021 school year has opened much differently than any other school year that I have been a part of in my 18 years of ministry. Many prayers were lifted to God, asking for guidance and wisdom as plans, preparations, and precautions were put into place to provide the safest environment for students and staff. What a blessing it has been to finally see and hear the students in the hallways once again at Immanuel.
One of the new procedures is the taking of student temperatures as each child exits their car in the morning. This means that every morning myself, along with a team of dedicated church and school staff members, stand outside at the drop-off line checking temperatures. Now I am positive that parents wished that temperature screenings did not have to happen as it slows things down in the morning. I am also sure as it gets colder that my group of volunteers will be less excited about standing outside for a half hour. I do have a confession to make… I actually enjoy drop-off.  
Every morning as each car pulls up I am privileged to observe the interaction between parents, students, and siblings. As the kids pile out of the vehicle there seems to always be one last moment for the family to connect. The "I love you's", the quick hugs, the last kisses, the "have a great days", even the occasional running back to a car to give one last high five. Each family has their own special way to communicate love and support to their child. The students walk into the school building a little bit taller when they have been equipped with their parent's affirmations. It is a joy to be able to witness these small moments that have such a large impact.
As I watch the change a simple gesture of love can make for a child's heart, I can't help but think of the change God's love can have on His children's hearts. Each morning as we embark on the day ahead, God communicates His love and support to us. You can see it in the morning sunrise. You can find it in the smell of the coffee your spouse is making for you. You can see it when the kids find both of their shoes as you head out the door.  He gives us these small blessings as a reminder of His love for us.  
But then there are those mornings where someone forgot their violin, or you woke up late without time for coffee. Or maybe the car keys have disappeared yet again. On those mornings it can be difficult to see the small reminders of God's love. That's when we can turn to God's Word where He reminds us in Philippians 4:13, "I can do all things through Him who gives me strength."  
God's love is greater than any problem the world can throw at us. He loves us unconditionally and the good news is that He promises to be with us every moment.  So we can "be strong and courageous. Do not be terrified, do not be discouraged. For the Lord our God is with us wherever we go." (Joshua 1:9)  So just like those confident students walking into the building, walk into each day equipped with your Father's affirmations.