"Beloved, let us love one another, for love is from God, and whoever loves has been born of God and knows God.  Anyone who does not love does not know God, because God is love.  In this the love of God was made manifest among us, that God sent his only Son into the world, so that we might live through him.  In this is love, not that we have loved God but that he loved us and sent his Son to be the propitiation for our sins.  Beloved, if God so loved us, we also ought to love one another." -  1 John 4:7-11 
When you think about February, what comes to mind?  Is it that we are solidly into the winter months and you are already dreaming of the warmer days ahead?  The end to shoveling snow and washing salt off your car?  Or is it the fun of snow days and upcoming Valentine's Day parties?  Maybe it's that March Madness is almost here and you can see the Michigan Wolverines winning it all this year?  (ok – maybe that last one is just me)
February is a month where we often think about love.  Love for one's family.  Love for our friends.  Loving our neighbor.  And most importantly, the love that God has for each and every one of us.  This month, we begin the season of Lent.  Throughout Lent, we spend time focusing on what Jesus has done for us by suffering and dying on the cross.  We put away the Alleluias during this time and eagerly look forward to that resurrection joy of Easter Sunday.   We hear of the great depth of love that our Savior has for us and we want to shout it from the rooftops (or mountain tops as the song goes) so that everyone can hear that Jesus loves them too.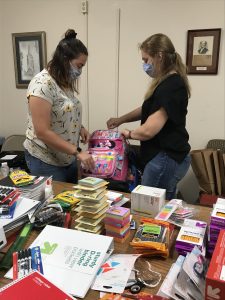 One of the blessings that God has given us at Immanuel is the many ways that we share that love of Jesus by caring for our neighbor.  In the past year, Immanuel has shared its blessings with others by providing backpacks and school supplies for children in our community through We Love St. Charles.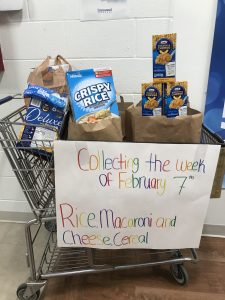 Carts are already overflowing for the winter O.A.S.I.S. food pantry collection which provides food for our St. Charles neighbors. The Confirmation class will be serving the homeless by providing tie blankets, sandwiches, brownies and laundry detergent (in ziplock bags with Bible verses written on them) that will be shared with Trinity Soulard  for distribution in the city. The Youth and Family Life Team organized a day of caroling to our homebound and shared cards made by some of our young members.  
Those are only a sampling of the many doors that God has opened as we serve as the hands and feet of Jesus in sharing our blessings, time and talents in our community and beyond.   What a joy it is to share the love of Jesus with those that God has put in our path and to truly love and care for our neighbor. 
Thank you for your generosity and depth of love for those around you as we serve one another in the precious name of Jesus.
Jolene