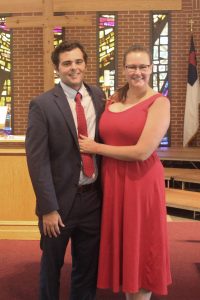 First, thank you for the warm welcome to Immanuel. You have shown great hospitality to me by introducing yourselves and offering help as I get settled in. If we haven't already met, I look forward to getting to know you soon. Clara and I are so blessed to be here. I admire how Immanuel balances its past, present, and future. I am inspired by how ministry has continued here in the face of the pandemic. The drive-in service is a great example of Immanuel innovating to bring the Word of God to bare on this moment. We are careful, but not fearful. Despite the innovation, some things haven't changed though. Baptisms, weddings, and funerals keep happening with due caution. God still welcomes all His children, couples fall in love, and God calls us home to himself in his time. 
When I left for college at Concordia University in Irvine, California, I wondered how much would change. Sure, the weather would change, classes would be different, and I would be on my own. I was ready and excited for these changes. Rather, specifically, I wondered how the people would be different in Southern California would compared to my home in Washington state where I grew up from age 18 months (after being born in St. Louis) to 18 years. Would everyone surf? Would everyone have an obnoxious purse dog? To my surprise, people are not as different as we often assume. They weren't too bad. I even ended up marrying one. We hear constant narratives of division in our world and in our country. Yet, at the end of the day, everyone wants to live with purpose, experience love, and leave a legacy. Everyone wants to justify his or her actions. Ironically, the Christian celebrates God giving us purpose, love, and an eternal legacy in baptisms, weddings, and funerals. These services echo the truth that God has justified us—we don't need to prove anything to anyone including ourselves. Rather, God, even while you were unpleasant to him, welcomed you. 
Now, there has been a lot of talk about a new normal. This is one of my least favorite phrases because not that much has changed! Pandemic or no pandemic, all around us we see the same desires and motivations. For better or sadly for worse. Politicians still act for their own benefit, corporations still advertise their fake concern a mile wide and an inch deep, and people still forget God and harm each other. Not even evil seems to change all that much. 
Thankfully, these evils in the world are not the only things to remain steady during the Covid. The author to the Hebrews writes, "Jesus Christ is the same yesterday, today, and forever" (Heb. 13:8). Although it may seem like God is far off during these dramatic times, we know now what God is like because we have heard about what Jesus as true God did in the past. Jesus healed the sick. Raised the dead. He risked himself to serve others. He ultimately conquered evil so we would not be shaken by it. Jesus has promised to heal you, serve you, and raise you from the dead when you die an earthly death (whether it be this year from Covid or 80 years from now). He has conquered evil so that you don't have to wonder if it will truly harm you. It won't! May your trust in Jesus as your savior and protector grow – perhaps this can be the one thing to change this year. That is to say, may greater faith in Jesus, the one true God, be your new normal. 
Blessings to you. Ephesians 1:3.
In Christ,
Vicar Kurt