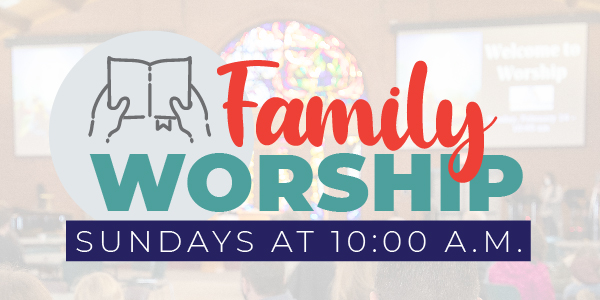 This past Sunday, we began a new type of worship at Immanuel: Family Worship! This worship service is happening at 10:00 a.m. in the Fellowship Hall. 
As the 9:30 a.m. Drive-In Worship winds to a close (April 25 is the final weekend), it's important to note that a number of families with younger children might not have been to worship in-person in over a year. Think about it- many young children don't remember what church was like before the pandemic began in the U.S. last March. They were too young! That's why we're striving to make Family Worship a place where your whole family- no matter what age- can get comfortable (again!) in God's House.
At Family Worship, we're following a blend of traditional and contemporary hymns and songs, and learning different parts of the liturgy. Liturgy is a big, fancy word for the format of how we worship. Here's the great thing God's House and the gifts that He gives (like worship) belong to everyone – no matter how old you are.  We want to get everybody leading- actions, readings, greeting, the like. 
It was an absolute joy to see parents engaging with their children in an environment where we had the opportunity slow things down and explain why we do what we do in worship. If you'd like to join us on this mission to incorporate everyone into our services, join us! We're hanging out in the Fellowship Hall at 10:00 a.m. on Sundays. 
No matter what worship service you prefer, that worship is for your children, too. Sit in the front so they can see what's happening. Help them follow along in the bulletin and hymnal. Participate yourself so they can follow your lead. If you're embarrassed, remember: God said to make a joyful noise to the Lord, not necessarily a pretty one. He created you with your own unique voice, and your kids are listening for it! Children are sponges, after all. 
Wherever you are at Immanuel, please know that we all rejoice in Jesus' words in Luke 18: "Let the little children come to me and do not hinder them, for the kingdom of God belongs to such as these." We know that your children are a gift to the Church, so we will do our best to welcome, smile, encourage, help, and bless you all.