There are many milestones along your faith journey and at Immanuel Lutheran Church and School, we wish to celebrate with you and your family along the way. We provide you with the tools you need to share your faith with your children and we also guide you and teach you how to use these tools with your children as they grow in their faith. We pray that these milestones and tools are a blessing to your family.
Train up a child in the way he should go;
even when he is old he will not depart from it.
- Proverbs 22:6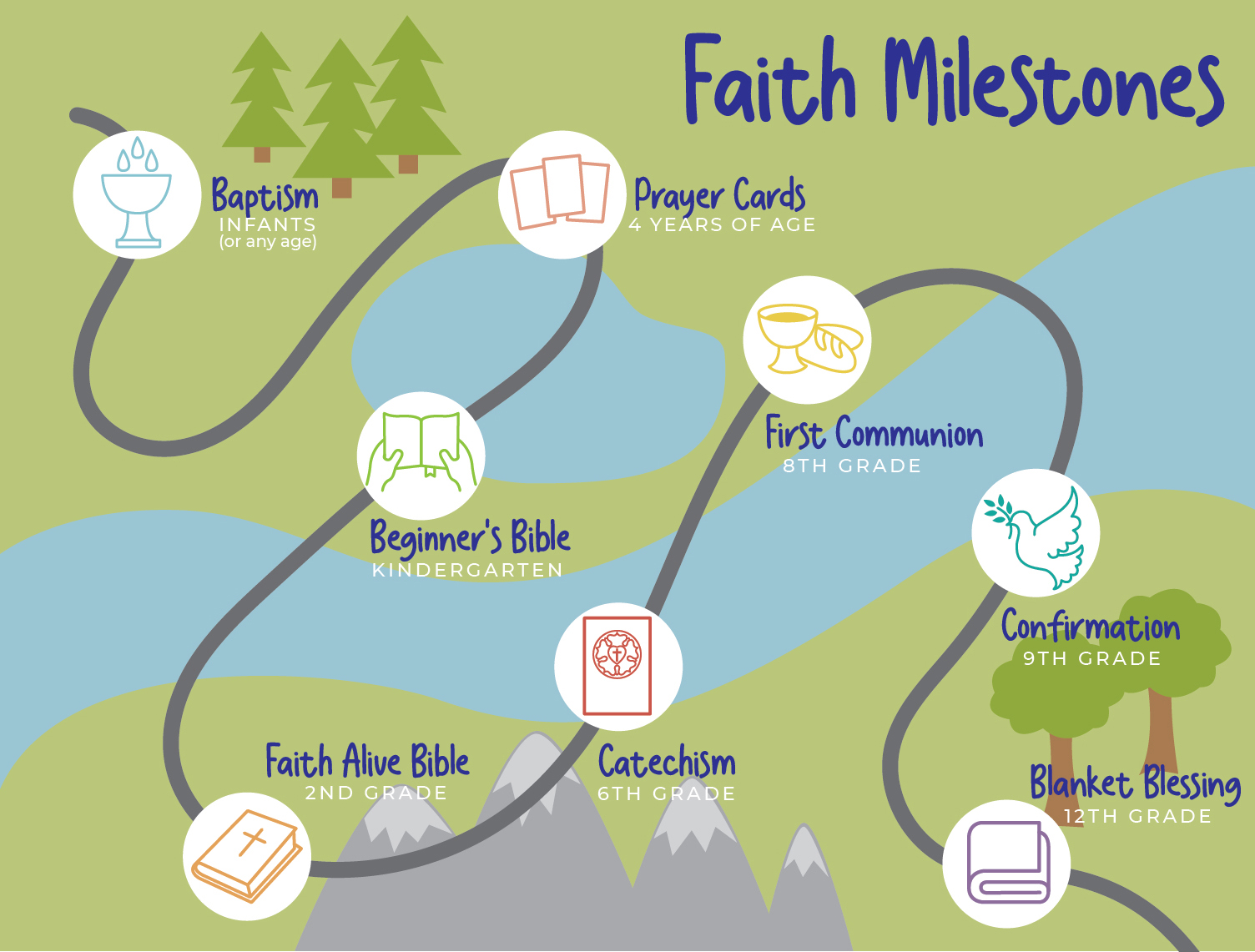 BAPTISM: The first step in one's faith walk. God invites us into His family through the waters of Holy Baptism, where He freely offers the promises of the Holy Spirit and salvation through His son Jesus Christ.
PRAYER CARDS: 4-year-olds receive a box with around 40 prayers bound together for ease of use. These cards are simple enough to learn, and portable to keep in the car, on the kitchen table, or wherever your little one might reach for them the most.
KINDERGARTEN BIBLES: In the beginning of the school year, Kindergartners receive the hard-bound Beginner's Bible full of colorful pictures that give a brief survey of the major stories in the Bible. Included is a dry-erase bookmark and marker with an outline to create a family devotion based on the Bible story that was read.
2ND GRADE BIBLES: In the spring, Second Graders receive the hard-bound ESV Faith Alive Bible. This resource is a standard Bible format, yet has colorful inserts and facts along the way that help tie God's Word together and makes it applicable for today's world.
6TH GRADE CATECHISMS: In the spring, 6th graders receive Luther's Small Catechism. The Catechism is a great resource for families to study together as it helps unpack what God's Word says on key pieces of the Christian Faith. Students will use their Catechism as they begin walking through Confirmation.
8TH GRADE FIRST COMMUNION: On Maundy Thursday, 8th graders have the opportunity to receive Holy Communion for the first time. Parents and students will receive instruction together on this Sacrament with the Pastoral staff.
9TH GRADE CONFIRMATION: The Rite of Confirmation is in October of 9th grade. Students receive instruction on the Six Chief parts of the Catechism, Bible, Christian Worldview, Apologetics and service as part of their preparation for Confirmation Sunday.
12TH GRADE GRADUATION AND BLANKET BLESSING: In May, graduating Seniors are celebrated in worship and prayed for. In August, the graduating class and families gather for a special celebration brunch and receive blankets from their families at worship. The students are then sent out to their next steps - college, work force or military.