Blessed & Thankful
"What if you woke up today with only the things you thanked God for yesterday?"
"God gave you a gift of 86,400 seconds today. Have you used one to say 'Thank you'?"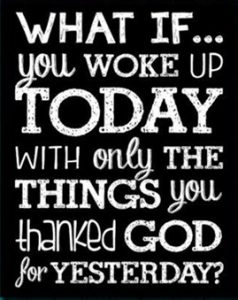 I have both of these quotes hanging at my desk, so that I can see them each day. I'll admit, as with many things you see all the time, I often overlook these quotes. There are many days though that they catch my eye and make me really stop and think. What if I woke up today with only the things I specifically thanked God for yesterday? I can honestly say there would be many days I would wake up missing many of the blessings in my life, even some of the major blessings in my life! How long would it take before I hardly had any blessings left? I'm thankful that our God doesn't work that way! 
Why are we guilty of not thanking God for the many blessings we have in this life? Maybe like the quotes hanging on my office wall that I often overlook, we simply aren't mindful of the things we see all the time. We aren't ungrateful, just not purposeful in our thinking and acting. In several Bible studies I've done, we've been asked to make a list of all the things we are thankful for. One study even suggested making a list of 1,000 things! While 1,000 seems like a big number, once you start thinking of all the many things God has blessed you with, that number is actually quite small! God has given us a beautiful world to live in with fascinating plants/animals/creatures, bodies that function in amazing ways, other people to enrich our lives, and so many other things. But, the most important thing for us to be thankful for is that God loves us, and out of that love, sent His Son to die for us!  
 Once we look at our lives in a more purposeful manner, it's easy to see just how richly we are blessed and then to thank God! Just like we appreciate being thanked if we've done something nice for someone, God also wants to hear from us:  "Rejoice always, pray without ceasing, give thanks in all circumstances; for this is the will of God in Christ Jesus for you" (1 Thessalonians 5:16–17).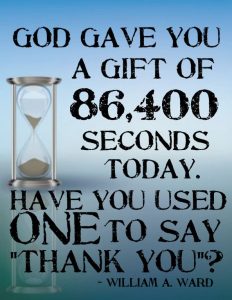 Now, think of just 10 things that you feel are blessings in your life and that you are thankful to God for. It's not hard, here's a few things to get you started – the sunshine, family/friends, Jesus, etc. Once you've identified some of your many blessings, you can take a few seconds out of the 86,400 seconds you've been given today to say: 
"Thank you God for ________". Thank you for loving me and also for the gift of your Son and the eternal life He bought for me with His holy, precious blood. Please help me to notice all the wonderful blessings that you give me each and every day and then to give you thanks. Amen.
My name is Chris Schikore and I have worked in the Church Office since September of 2001. My current primary job duties include: preparing Connections, creating and printing the bulletins for all the different worship services and creating the slide presentations that are used for worship in the Fellowship Hall.